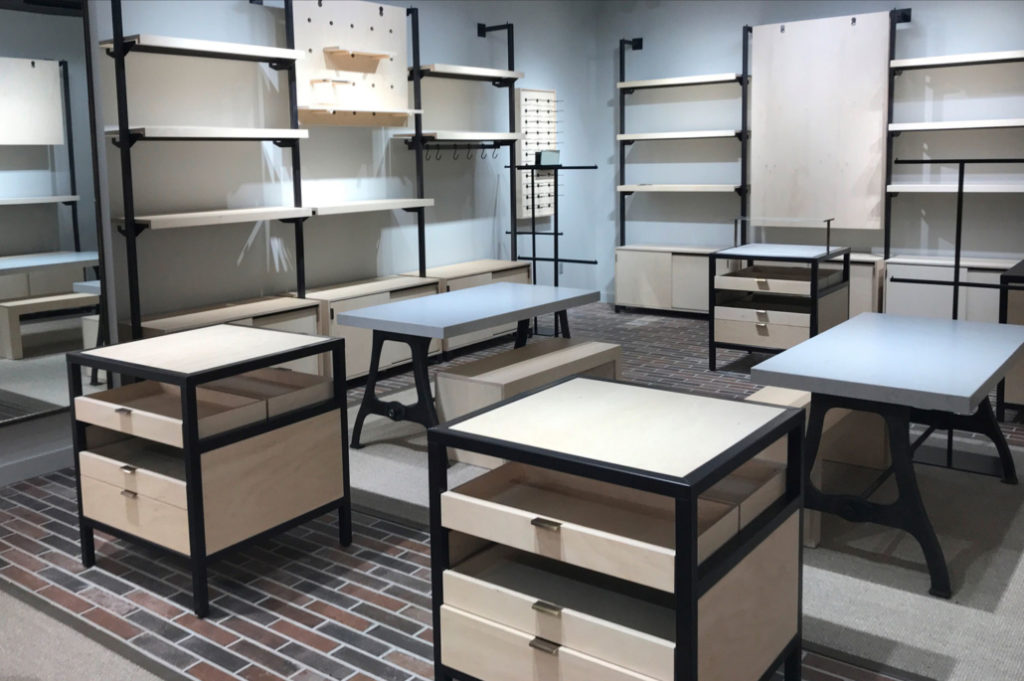 Job Description
Engineer commercial millwork and casework projects while working with our Project Management team.
Facilitate ECO changes while updating ERP.
Work closely with production to insure quality of product.
Create WO, Material REQS and BOMS for ERP
Create cutting bills and CNC programs
Create drawings for third party purchase.
Eligibility Requirements
Experience in Architectural Millwork.
Minimum 5 years experience in commercial millwork.
Proficient with Inventor software.
Bonus experience – custom manufacturing, construction trade and fixture design.
Job Features
| | |
| --- | --- |
| Job Category | Engineering/Drafting, Project Engineer |
| Recruitment Contact | Craig Mengel (417) 214-5082 |
| Salary Range | $30.00 to $40.00+ Hourly pay commensurate (Average of 5-10 hours overtime weekly) |
| Relocation | available |
| Benefits | 401K, Medical and Dental, Disability and Life insurance, paid vacation time. |
| Employees | 130 |
| Years in Business | 80 |
| Annual Revenue | 25 million |
| Manufacturing Square Feet | 210K |
| Area Information | Population 18,820 Median Age 42 Median Household Income $71,194 Median Home Price $211,500 |
| State Tax Information | State Sales Tax: 5.750% (food, newspapers, magazine subscriptions, telephone service and prescription drugs exempt); Counties levy additional sales taxes which may add up to 2.25% in additional sales tax. Gasoline Tax: 46.4 cents/gallon (Includes all taxes) Diesel Fuel Tax: 52.4 cents/gallon (Includes all taxes) Cigarette Tax: $1.60/pack of 20 Personal Income Taxes (Click here) (Brackets, deductions, exemptions, and tax rate range) Medical/Dental Deduction: Unreimbursed medical/dental expenses, premiums for long-term care insurance, and unsubsidized health insurance premiums are deductible. Federal Income Tax Deduction: None Retirement Income Taxes: Social Security is exempt. Ohio provides a credit for retirement and pension income that is received on account of retirement. To qualify for this credit, the adjusted gross income less exemptions must be less than $100,000. The credit is capped at $200.00 and is based upon the amount of the distribution reported on form 1099-R. The credit is not applicable for separation of employment, loans against the retirement plan, or rollovers. Seniors 65 and over may claim a $50 credit. Only one credit is allowed for each return. Out-of-state government pensions can be applied toward the retirement income credit. Taxpayers can deduct the following benefits only to the extent that they are included in the taxpayers federal adjusted gross income: Social Security, Tier 1 and Tier II Railroad Retirement benefits, and supplemental and other Railroad Retirement benefits. Retired Military Pay: Military retired pay of taxpayers who retired from service in the active or reserve components of the U.S. Army, Navy, Air Force, Marine Corps, Coast Guard, or from the National Guard can deduct their military retirement income to the extent that income is not otherwise deducted or excluded in computing federal or Ohio adjusted gross income. Taxpayers who served in the military and receive a federal civil service retirement pension are also eligible for a limited deduction if any portion of their federal retirement pay is based on credit for their military service. These retirees can deduct only the amount of their federal retirement pay that is attributable to their military service. Military taxpayers – click here and here. Military Disability Retired Pay: Retirees who entered the military before Sept. 24, 1975, and members receiving disability retirements based on combat injuries or who could receive disability payments from the VA are covered by laws giving disability broad exemption from federal income tax. Most military retired pay based on service-related disabilities also is free from federal income tax, but there is no guarantee of total protection. VA Disability Dependency and Indemnity Compensation: VA benefits are not taxable because they generally are for disabilities and are not subject to federal or state taxes. Military SBP/SSBP/RCSBP/RSFPP: Generally subject to state taxes for those states with income tax. Check with state department of revenue office. Property Taxes The taxable base is the assessed value of land and buildings. Assessed value is 35% of market value, except for certain agricultural land. County auditors must reappraise all real estate every six years. A Homestead Exemption is available to the homesteads of qualified homeowners who are either at least 65 years old, permanently and totally disabled, or at least 59 years of age and the surviving spouse of a deceased taxpayer who had previously received the exemption. For more details, click here. The Homestead Exemption is limited to the homestead, which Ohio law defines as an owner's dwelling and up to one acre of land. The value of the exemption may not exceed the value of the homestead. The 2016 income threshold is $31,500, the 2017 threshold is $31,800, and the 2018 threshold is $32,200. Inheritance and Estate Taxes Ohio does not have an estate tax or an inheritance tax. For further information, visit the Ohio Department of Taxation site. * Add an additional $20 per exemption tax credit. |
| Annual Weather | Annual high temperature: 59.6°F Annual low temperature: 43.1°F Average temperature: 51.35°F Average annual precipitation - rainfall: 39.12 inch Days per year with precipitation - rainfall: - Annual hours of sunshine: - Av. annual snowfall: 68 inch |
| School Rating | above average (7-10) |