Architectural, Institutional, Laboratory, Medical Facilities, Millwork and Cabinetry, Multi-Family, Restaurant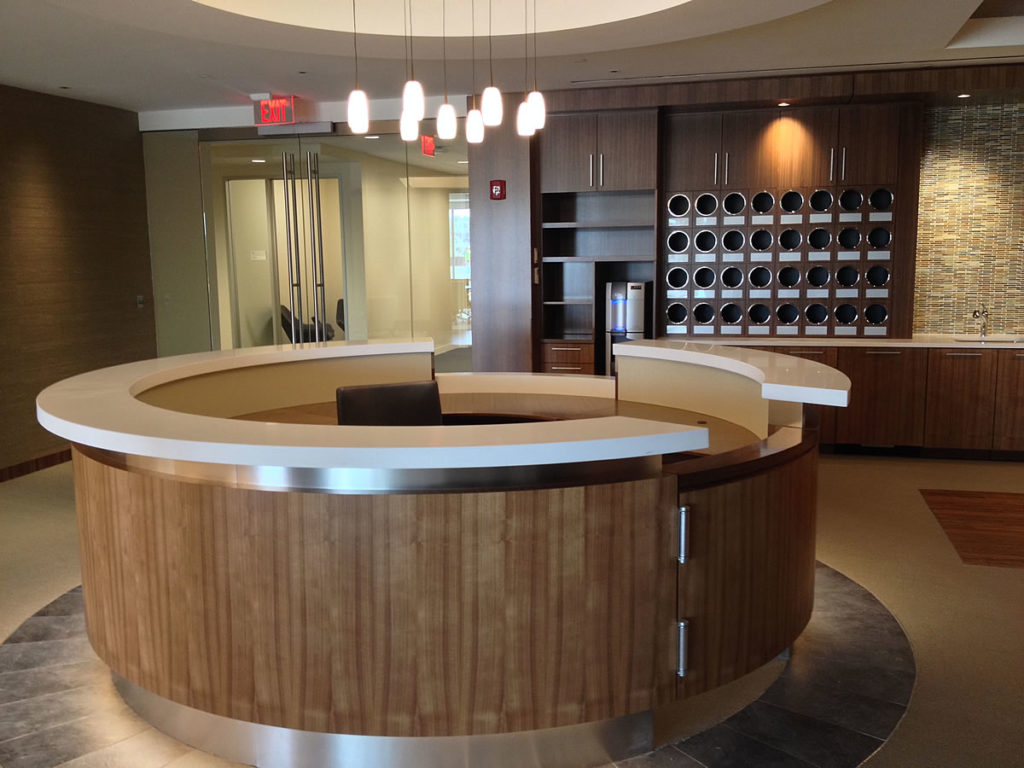 Job Description
Seeking an in house draftsperson/engineer with 4 years of architectural millwork drafting experience. As a draftsperson you will be responsible for the production of shop drawings and related bills of materials, assembly of submittal packages, and other similar duties.
• You will compare material types, quantities, and conformance to architectural specifications with estimate. Confer with Project Manager and Estimator on any conflicts and resolve before submission is made to general contractor.
• You will develop detailed production drawings with material and hardware schedules for the various projects undertaken by the company.
• You will also review architectural plans, coordinate millwork details with other trades to avoid conflicts, produce drawings of the project's components showing exact details, elevations, sections, etc., and develop various schedules for doors, hardware or other similar details.
• You will also be responsible for Revising drawings based on changes made to the original plans or as field conditions require.
• You will also be responsible for processing and checking cut list created from "Cad/Cam" software.
• You will be creating machining programs for the CNC.
• The drafting personal also provide as a liaison with the Project Manager or other personnel in order to clarify plans, instructions, time schedules, or other similar details.
Eligibility Requirements
Must be detailed orientated, must be able to work out problems, double check work prior to completion. Experience with AUTOCAD 2016 or higher and Knowledge of AWI Standards. Experience with WoodCad/Cam, Inventor, Microvellum or equivalent "Cad/Cam" software, as well as Cut-RITE & WoodWOP is preferred.
Job Features
| | |
| --- | --- |
| Job Category | Design Engineer, Drafter, Engineering/Drafting, Project Engineer |
| Recruitment Contact | Ryan Fullerton (417) 682-3056 |
| Salary Range | $60,000.00 to $75,000.00+ annual salary commensurate |
| Relocation | available |
| Benefits | Health Insurance, short term disability. We offer life insurance and log term disability. Dental reimbursements. Profit sharing plan. 401k |
| Employees | 30 |
| Years in Business | 26 |
| Annual Revenue | 6 million |
| Manufacturing Square Feet | 20K |
| Area Information | Population 28,602 Median Age 39 Median Household Income $59,274 Median Home Price $290,800 Walkscore 39 |
| State Tax Information | State Sales Tax: 6.25% (food; prescription drugs; fuel costs; gas, oil, electricity; clothing costing up to $175, are exempt). Gasoline Tax: 44.54 cents/gallon (Includes all taxes) Diesel Fuel Tax: 50.54 cents/gallon (Includes all taxes) Cigarette Tax: $3.51/pack of 20 Personal Income Taxes (Click here) (Brackets, deductions, exemptions, and tax rate range) Medical/Dental Deduction: Federal amount Federal Income Tax Deduction: None Retirement Income Taxes: Social Security, civil service, and state/local government pensions are exempt. Pension income from other state or local governments that do not tax pension income from Massachusetts public employees is exempt from Massachusetts taxable income. Massachusetts income tax treatment of certain pension or retirement income prevents any state from taxing income from certain pensions and deferred compensation plans paid to individuals who are not residents of that state. Massachusetts already exempts much of the pension income paid to non-residents covered by P.L. 104-95, but the state exempts from taxation of some previously taxable pension income. Effective Jan. 1, 2016, the tax rate has been lowered to 5.1% – on both earned income (salaries, wages, tips, commissions) and unearned (interest, dividends and capital gains). Certain capital gains are taxed at 12%. An individual first calculates gross income, which is income from whatever source derived including (but not limited to) the compensation for services, wages, pensions, business income, rents, royalties, dividends, interest, capital gains, alimony, annuities, etc. Certain business and personal deductions, as well as exemptions, may reduce gross income to arrive at that income subject to tax. For more information, click here. Retired MilitaryPay: Not taxed. Military Disability Retired Pay: Retirees who entered the military before Sept. 24, 1975, and members receiving disability retirements based on combat injuries or who could receive disability payments from the VA are covered by laws giving disability broad exemption from federal income tax. Most military retired pay based on service-related disabilities also is free from federal income tax, but there is no guarantee of total protection. VA Disability Dependency and Indemnity Compensation: VA benefits are not taxable because they generally are for disabilities and are not subject to federal or state taxes. Military SBP/SSBP/RCSBP/RSFPP: Generally subject to state taxes for those states with income tax. Check with state department of revenue office. Property Taxes Massachusetts does not provide for a general homestead exemption but does have a Homestead Act. The Homestead Act permits a homeowner who occupies a house as his/her principal residence to shield up to $500,000 in equity in that house from creditors. By simply filing a Declaration of Homestead with the appropriate Registry of Deeds, a homeowner may be able to protect his/her residence from the claim of a future creditor. The Homestead Act permits only one spouse to file for the equity protection if each has an ownership interest in the home. The protection offered to the disabled and the elderly is even more comprehensive because it allows a husband and wife who own their own home to each file for the $500,000 equity protection. Click for details. Inheritance and Estate Taxes There is no inheritance tax and a limited estate tax on estates valued at $1,000,000 or more. Information for new residents can be found here. For further information, visit the Massachusetts Department of Revenue site. |
| Annual Weather | Annual high temperature: 56°F Annual low temperature: 39.6°F Average temperature: 47.8°F Average annual precipitation - rainfall: 48.02 inch Days per year with precipitation - rainfall: - Annual hours of sunshine: - Av. annual snowfall: 64 inch |
| School Rating | average (5-6) |