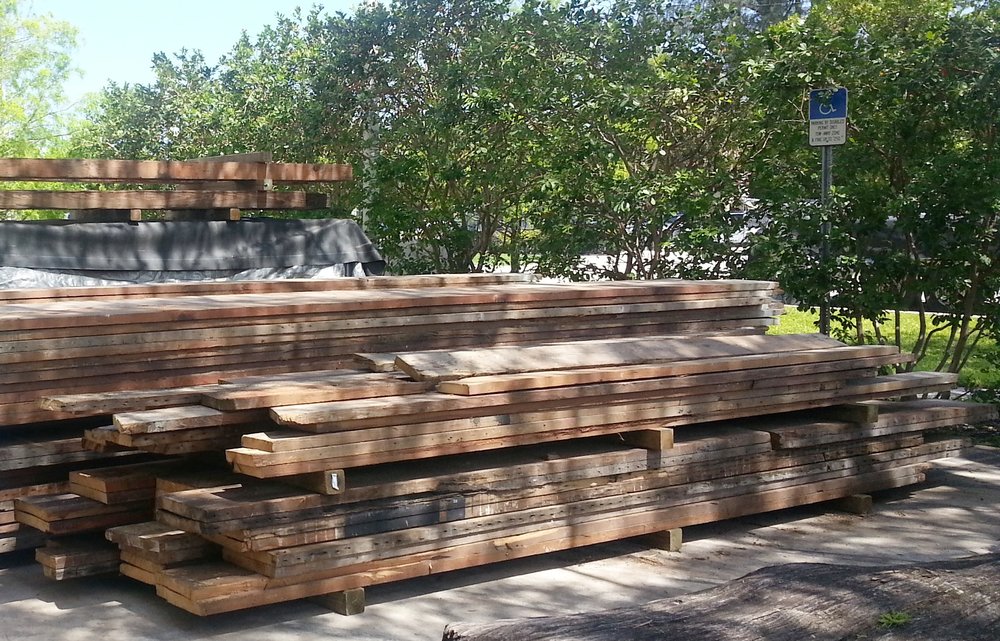 Job Description
Company is a small, family business with a reputation for award-winning craftsmanship and professionalism. Specializing in reclaimed lumber processing and reuse of the lumber for manufacturing of products for commercial and residential high end projects.
Searching for a working shop/yard foreman with diversified lumber and millwork experience and familiar with the reclaimed wood industry. Will act as a team leader by example, managing a small shop's daily reclaimed lumber processing and manufacturing production in a safe, efficient manner. Work with the Office Manager and Assistant Shop Manager to coordinate work orders and production schedules, maintaining inventory and daily production records. Work with the Owners to assure proper scheduling and insure that necessary inventories/supplies are in place for production. Assist with coordination of pickups, deliveries, crating and shipping logistics. Responsible for meeting quality control standards and shipping deadlines, which will require a willingness to work overtime.
Eligibility Requirements
Must be professional and able to work well with a team
Must be physically fit to work in humid conditions both inside and outside.
Must possess high degree of craftsmanship
Must be able to schedule and creatively manage team and projects
Must have knowledge of reclaimed wood species and types
Must have articulate eye for lumber grade selections
Must be able to accurately calculate board footage and field document inventory control
Must be familiar with woodworking equipment, set-ups and maintenance
Must be able read blueprints and interpret specifications
Must be familiar with all OSHA rules and procedures, and be able to supervise accordingly
Must have experience with high quality lumber standards and shipping deadlines
Must be drug-free and pass drug screening test through the company
Must have a background investigation conducted through the company, and have no criminal history
Must fill out the company job application with past employment history, including names/contact info
for reference
Will be required to sign the company's Non-Compete Agreement.
Job Features
| | |
| --- | --- |
| Job Category | Shop Foreman |
| Recruitment Contact | Craig Mengel (417) 214-5082 |
| Salary Range | $60,000.00 to $75,000.00 annual salary commensurate |
| Relocation | available |
| Benefits | negotiated to each candidate |
| Employees | 2 |
| Years in Business | 1 |
| Annual Revenue | 250K |
| Manufacturing Square Feet | N/A |
| Area Information | Population 173,570 Median Age 43 Median Household Income $50,778 Median Home Price $255,600 Walkscore 54 |
| State Tax Information | State Sales Tax: 6% (food, prescription and non-prescription drugs exempt). There are additional county sales taxes which could make the combined rate as high as 8%. Gasoline Tax: 55.20 cents/gallon (Includes all taxes) Diesel Fuel Tax: 58.17 cents/gallon (Includes all taxes) Cigarette Tax: $1.34/pack of 20 Personal Income Taxes No state income tax Retirement Income: Not taxed. Property Taxes All property is taxable at 100% of its just valuation. Every person who owns and resides on real property in Florida on January 1 and makes the property their permanent residence is eligible to receive a homestead exemption up to $50,000. The first $25,000 applies to all property taxes, including school district taxes. The additional exemption up to $25,000, applies to the assessed value between $50,000 and $75,000 and only to nonschool taxes. If one spouse holds the title, the other spouse may file for the exemption with the consent of the titleholder. Below is a general list of exemptions available in the state. Homestead exemptions up to $50,000 $500 widows and widower's exemption $500 disability exemption $5,000 disability exemption for ex-service member Service connected total and permanent disability exemption Exemption for totally and permanently disabled person Additional homestead exemption for persons 65 and older Homestead property tax discount for veterans age 65 and oler with a combat-related disability Homestead tax deferral Installment payment of property taxes Personal property The homestead exemption for all residents applies to all property taxes, not just city and county taxes. Annual increases in the assessment of homestead property are limited to 3% of the prior year's assessed value, or if lower, the percentage change in the Consumer Price Index for the prior year, as long as there was no change in ownership. For more details on property taxes, click here, then find the link for the county property appraiser for the county in question. For more information on Florida property tax exemptions, click here. Inheritance and Estate Taxes There is no inheritance tax and only a limited estate tax. To review information for new residents, click here. For general information on Florida taxes, visit the Florida Department of Revenue site or call 800-352-3671. |
| Annual Weather | Annual high temperature: 83.3°F Annual low temperature: 67.8°F Average temperature: 75.55°F Average annual precipitation - rainfall: 66.49 inch Days per year with precipitation - rainfall: - Annual hours of sunshine: - Av. annual snowfall: - |
| School Rating | above average (7-10) |