Architectural, Kitchen & Bath, Millwork and Cabinetry, Moulding/Casing/Spindle, Multi-Family, Residential, Window and Door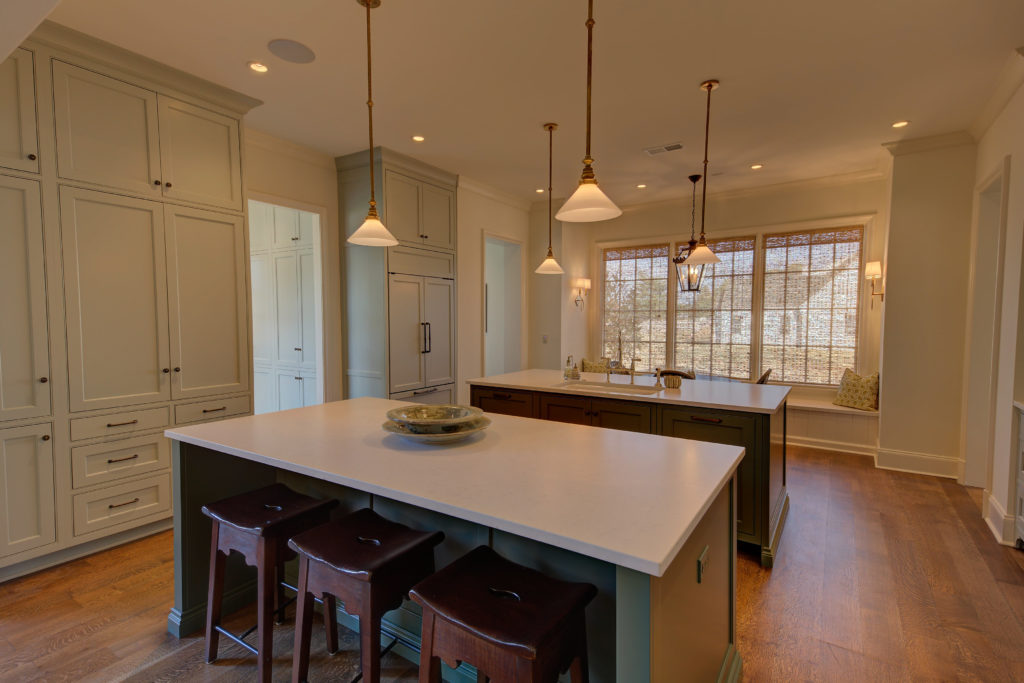 Job Description
Work with Project and Shop Manager to gain essential design information for use in Cabinet Vision; draft cabinetry floor plans and elevations, adding all relevant information to current drawings. Work closely with Project Manager to ensure drawings are accurate, prior to client/ designer meetings. Review project plans with Project and Shop manager prior to start of work. (Pre-cut Meeting). Nest jobs and schedule for cutting in coordination with the Shop Manager and CNC operator. Continue to mentor the CNC operator as required and assist in clearing any trouble encountered.
Must work quickly and with accuracy, be highly organized and flexible. Ability to self-check own work for completeness and accuracy, meeting standards. Will be responsible for some design elements i.e. specialty cabinets, hoods and other configurations as required. Work from drawings, sketches or scanned images, customer drawings, or specifications
Coordinate with the Project and Shop manager to maintain or revise accepted drawing standards and guidelines (Construction Methods; hardware revisions, etc.). Assist with cutting and cabinet construction as required. Will be required to perform other duties as requested, directed or assigned.
Eligibility Requirements
Knowledge of Cabinet Vision/AutoCAD and hand drafting principles, practices, methods and techniques; basic cabinetry knowledge
Ability to demonstrate proficiency in both oral and written communication; read and interpret drawings; prepare accurate detailed drawings using information from Designers; operate computer using standard drafting software packages, develop AutoCAD for design projects; maintain complete, readily accessible files and records of drawings; and establish and maintain effective working relationships with co-workers and outside vendors
Ability to multi-task and manage numerous projects in a timely and efficient manner
Must present in a professional and expert manner
Identifying problems, analyze information, and reviewing related information to develop and evaluate options, solve problems and implement solutions
Must be proactive to make decisions and work independently
Excellent interpersonal communication skills
Job Features
| | |
| --- | --- |
| Job Category | CNC Programmer/G-Code, Drafter, Engineering/Drafting |
| Recruitment Contact | Craig Mengel (417) 214-5082 |
| Salary Range | $60,000.00 to $75,000.00 annual salary commensurate |
| Relocation | available |
| Benefits | Health, Retirement program, Paid vacation and PTO |
| Area Information | Population 657,167 Median Age 34 Median Household Income $36,445 Median Home Price $94,000 Walkscore 33 |
| State Tax Information | State Sales Tax: 7% on tangible property (prescription drugs are exempt); 4% on food and food ingredients. Counties and cities may add up to 2.75% to the total of either rate. Gasoline Tax: 33.7 cents/gallon (Includes all taxes) Diesel Fuel Tax: 46.8 cents/gallon (Includes all taxes) Cigarette Tax: 62 cents/pack of 20 Personal Income Taxes Medical/Dental Deduction: Qualified medical expenses are deductible, and these include the costs of diagnosis, cure, mitigation, treatment or prevention of disease, and the costs for treatments affecting any part or function of the body. Federal Income Tax Deduction: None Retired Military Pay: Tax-exempt Military Disability Retired Pay: Retirees who entered the military before Sept. 24, 1975, and members receiving disability retirements based on combat injuries or who could receive disability payments from the VA are covered by laws giving disability broad exemption from federal income tax. Most military retired pay based on service-related disabilities also is free from federal income tax, but there is no guarantee of total protection. VA Disability Dependency and Indemnity Compensation: VA benefits are not taxable because they generally are for disabilities and are not subject to federal or state taxes. Military SBP/SSBP/RCSBP/RSFPP: Generally subject to state taxes for those states with income tax. Check with state department of revenue office. Property Taxes Property taxes are assessed and collected by the local governments. County assessors of property appraise real estate for assessment purposes. In addition, they assess tangible personal property used or held for use in a business. The county commission and city governing bodies determine local property tax rates. The property taxes are collected by county trustees and city collecting officials. Tennessee does not have a Homestead Exemption. However, there is a property tax relief program for the elderly, disabled and veterans. For additional information, click here. The assessed valuation of a property is based on 25% of its fair market value. Depending on the location of the residence, homeowners will be assessed property taxes from the city only, the city and county, or the city, county, and a special school/fire district rate. A local government may authorize (at their option) a person who is 65 years of age or older to defer payment of tax. The state Comptroller's Office will calculate the income limit for each county annually using a formula outlined in state law. For more information, call 615-741-4883 or click here for an overview of the property tax freeze program. Inheritance and Estate Taxes There is no inheritance tax. Because of the phaseout of the federal estate tax credit, Tennessee's estate tax is not imposed on estates of people who died in 2005 or later. For more information, click here or call 615-532-6438. For further information, visit the Tennessee Department of Revenue site or call 615-741-2837. * Tax rates to do not include local option tax of 1 cent. |
| Annual Weather | Annual high temperature: 72.4°F Annual low temperature: 53.6°F Average temperature: 63°F Average annual precipitation - rainfall: 53.67 inch Days per year with precipitation - rainfall: - Annual hours of sunshine: - Av. annual snowfall: 3 inch |
| School Rating | above average (7-10) |