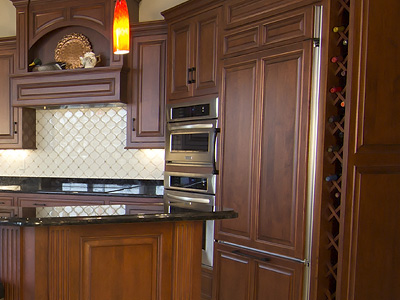 Job Description
CAD Engineer will be responsible for aiding in the computer aided drafting tasks. A Junior Candidate may be considered and would work with our Sr Engineers for guidance. Programming CNC for custom parts will also be part of job. You will become the "computer craftsmen" creating very detailed parts from your drawings.
Eligibility Requirements
Must be detail oriented, extremely cautious and thorough, must be able to follow directions precisely, and have a very genuine concern for the work they are doing. Must be someone that can take pride in the high-end work that we produce. Must have excellent communication skills with in house designers, as well as all mill employees to help coordinate their efforts. Need experience in Cabinet Vision, AutoCAD, AlphaCAM would be helpful. We are looking for a high-quality individual who is extremely motived to grow with our great company! We are looking for someone for a long-term partnership with us, eager to learn, and help take this business to the next level!
Job Features
| | |
| --- | --- |
| Job Category | CNC Programmer/G-Code, Engineering/Drafting, Project Engineer |
| Recruitment Contact | Craig Mengel (417) 214-5082 |
| Salary Range | $45,000.00 to $80,000.00 annual salary commensurate |
| Relocation | available |
| Benefits | Health, dental, vision, 401K, profit sharing, paid holidays and vacation plus annual bonus |
| Employees | 35 |
| Years in Business | 60 |
| Annual Revenue | 6 million |
| Manufacturing Square Feet | 45K |
| Area Information | Population 120,212 Median Age 37 Median Household Income $35,785 Median Home Price $89,200 Walkscore 42 |
| State Tax Information | State Sales Tax: 7% (food and prescription drugs exempt) Gasoline Tax: 56.40 cents/gallon (Includes all taxes) Diesel Fuel Tax: 65.65 cents/gallon (Includes all taxes) Cigarette Tax: $1.00 cents/pack of 20 Personal Income Taxes (Click here) (Brackets, deductions, exemptions, and tax rate range) Medical/Dental Deduction: None Federal Income Tax Deduction: None Retirement Income Taxes: Social Security is exempt. Taxpayers 60 and older may exclude $1,000 from military pensions minus the amount of Social Security and Railroad Benefits received. Taxpayers age 62 and older may deduct from their adjusted gross income $1,000 from a federal civil service annuity. Out-of-state pensions are fully taxed. Homeowners can deduct up to $2,500 from their income taxes for property taxes on their residence. To view information for seniors, click here. Retired Military Pay: Military retirees who are age 60 are entitled to deduct up to $5,000 of military or survivor benefits. Active Duty or Reserve Military Pay: Military personnel (regardless of age) on active duty or in the reserves may deduct up to $5,000 of taxable military pay if it is not already excluded or deducted from their adjusted gross income. Military Disability Retired Pay: Retirees who entered the military before Sept. 24, 1975, and members receiving disability retirements based on combat injuries or who could receive disability payments from the VA are covered by laws giving disability broad exemption from federal income tax. Most military retired pay based on service-related disabilities also is free from federal income tax, but there is no guarantee of total protection. VA Disability Dependency and Indemnity Compensation: VA benefits are not taxable because they generally are for disabilities and are not subject to federal or state taxes. Military SBP/SSBP/RCSBP/RSFPP: Generally subject to state taxes for those states with income tax. Check with state department of revenue office. Property Taxes Property taxes in Indiana are administered at the local level with oversight by the Indiana Department of Local Government Finance. They are imposed on both real and personal property. Property, which is assessed at 100% of its true value, is subject to taxation by a variety of taxing units (schools, counties, townships, cities and towns, libraries, etc.), making the total tax rate the sum of the tax rates imposed by all of the taxing units in which the property is located. Homeowners are eligible for a homestead deduction, which is $45,000 or 60% of the assessed value of the homestead, whichever is less. A taxpayer entitled to receive a standard homestead deduction is also entitled to a supplemental deduction — 35% for a homestead with an assessed value of less than $600,000, or 25% for a homestead assessed at more than $600,000. A Circuit Breaker Program is aimed at helping residents by ensuring they don't pay more than 3% of their property value in taxes. The goal is to provide predictability in tax bills and equity among Hoosier taxpayers. For more information on property tax deductions, click here. A circuit breaker program is aimed at helping residents by ensuring they don't pay more than 2% of their property value in taxes. The goal is to provide predictability in tax bills and equity among Hoosier taxpayers. For more information on property tax deductions, click here . Inheritance and Estate Taxes Indiana repealed its inheritance tax in 2013. For individuals dying after Dec. 31, 2012, no inheritance tax has to be paid. Click here for details. For further information, visit the Indiana Department of Revenue site. *Includes local county taxes |
| Annual Weather | Annual high temperature: 60.9°F Annual low temperature: 37.5°F Average temperature: 49.2°F Average annual precipitation - rainfall: 46.49 inch Days per year with precipitation - rainfall: - Annual hours of sunshine: - Av. annual snowfall: 47 inch |
| School Rating | average (5-6) |